It's been a while since I've last written a blog post, but I haven't been sitting still. For the past few months, I have been busy working on a new keyboard and a new webshop, and I'm excited to now formally introduce them: the Kyria, for sale on splitkb.com!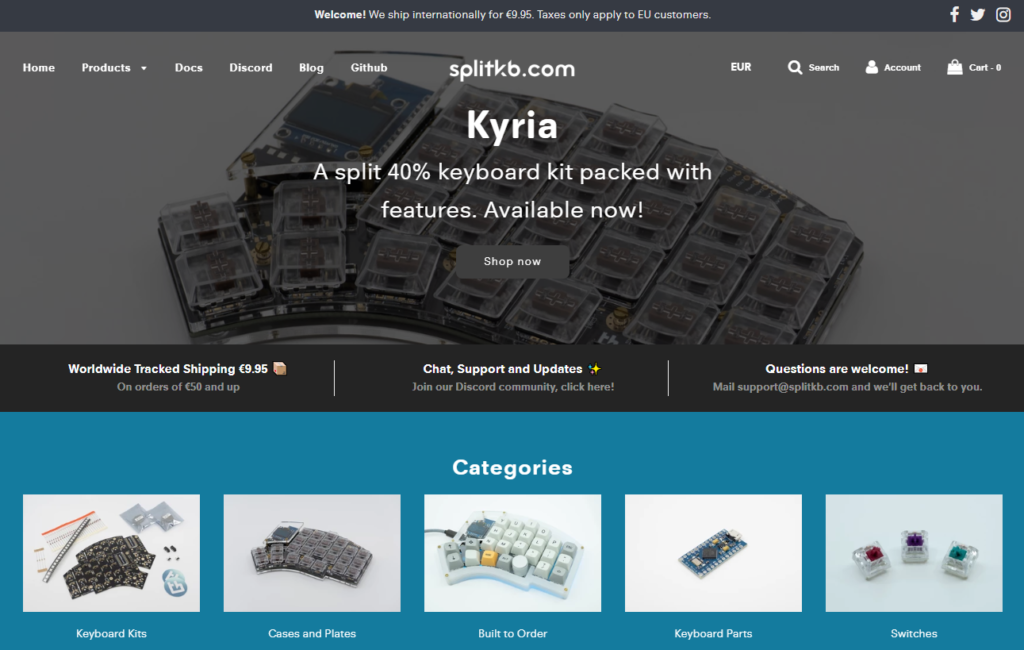 A start
Since I started with this hobby, split keyboards intrigued me. In fact, one of my first blog posts was a build log of the keeb.io Iris, and my build log of the Corne keyboard by Foostan remains one of my most viewed posts.
I've since been active on various Discord servers and tried to contribute to the community by writing a series of blog posts on various QMK features. In the meantime, despite my enthusiasm about split keyboards, I couldn't get used to typing on a split keyboard. It somehow felt unnatural and uncomfortable for me, especially since I was used to a "normal" tenkeyless keyboard, typing on it with two fingers and my thumbs.
Designing the Kyria
I already designed cases and took on case commissions from vendors like Keyhive, gBoards.ca and mechboards.co.uk. I started wanting to design my own layouts, since the cases I made for others were limiting me to preexisting PCB designs.
I set out to design a keyboard that would fit what I liked: an ample amount of thumb buttons that should also be easy to reach, and enough stagger so that it'd feel comfortable to use my pinkies.
It didn't take long for me to get started with PCB design, and about a month later the second revision of the Kyria became a reality (the first revision used SMD parts only, and I thought that was a bit too much for a first attempt). That was in July, 2019. Unfortunately I didn't make pictures, but I did save the render.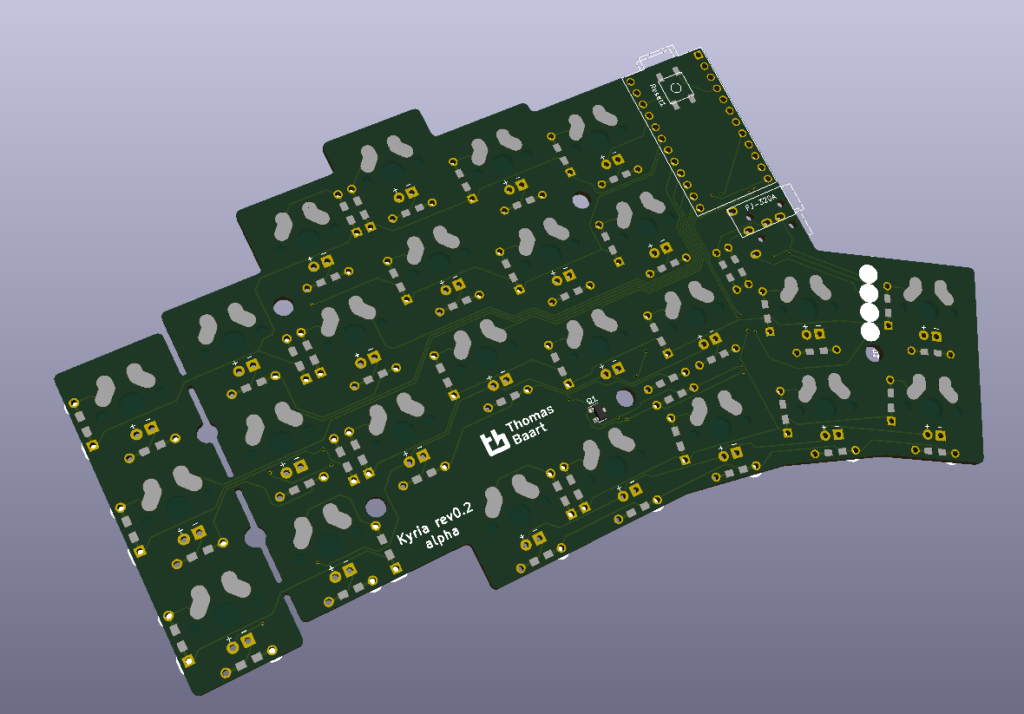 That revision already came quite close to what the Kyria is today. It took quite some revisions inbetween to arrive at the current version, though.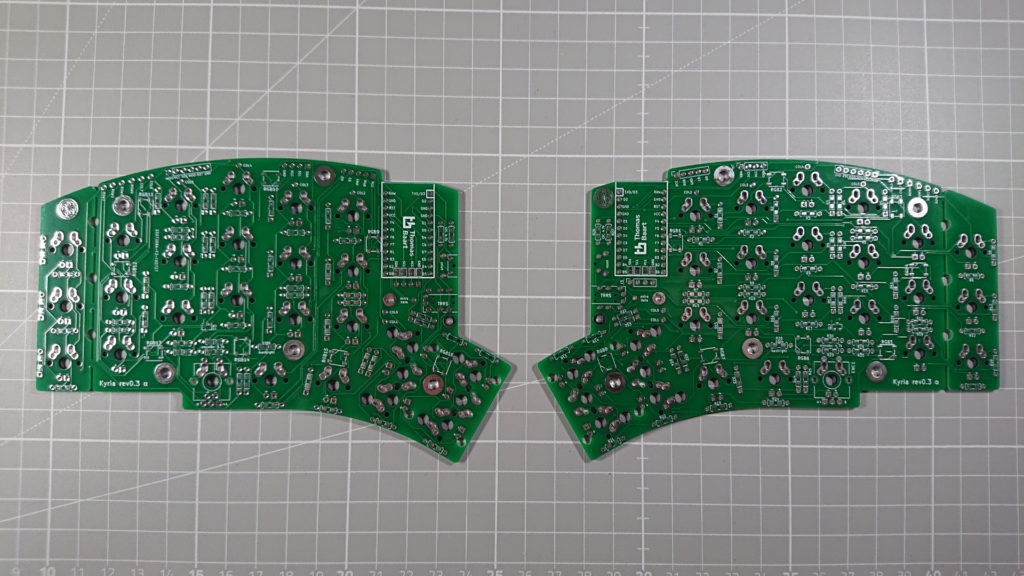 Revision 0.3 introduced a new aesthetic and a most of the features that are on the Kyria today. It gained underglow, one spot for a rotary encoder, and room for an OLED display.
Of course, it didn't stop there. Several people on Discord wanted to purchase my prototypes, and based on my own testing and their feedback I made some changes. After some more revisions with fixes and changes, I ended up at revision 0.7, which now is revision 1.0.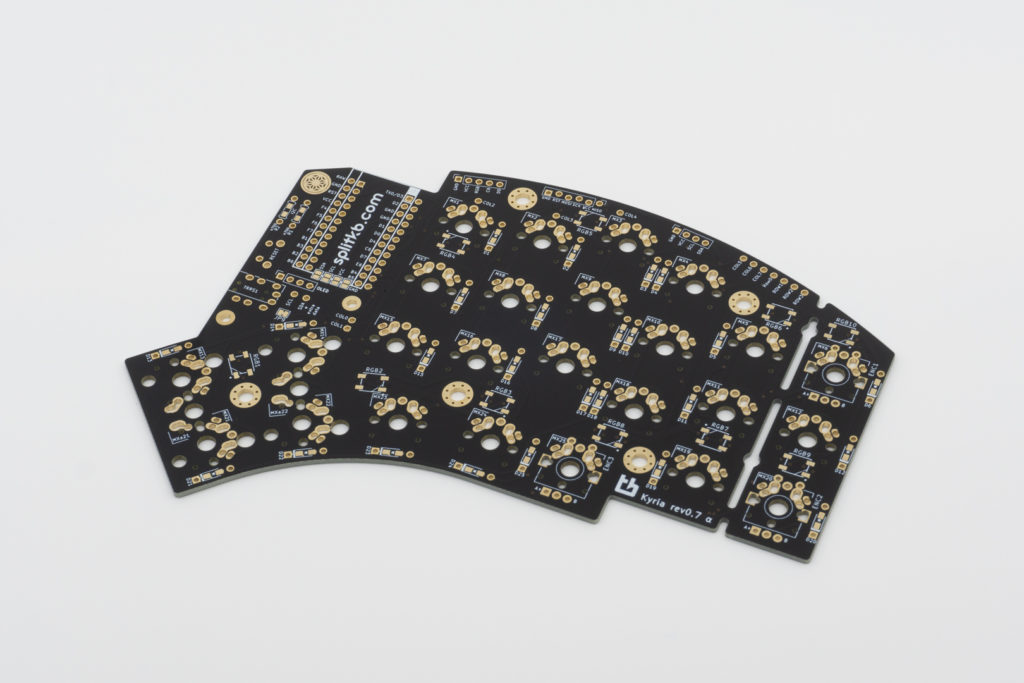 The latest revision features three possible spots to place your encoder, up to two 2u thumb keys with stabilizers, RGB Underglow, and perhaps most fun of all: two 128×64 pixel OLED displays. Next to that, you can snap off the outer column if you're more about small layouts, and if you like to mod there's easy access to all pins along the top of the PCB.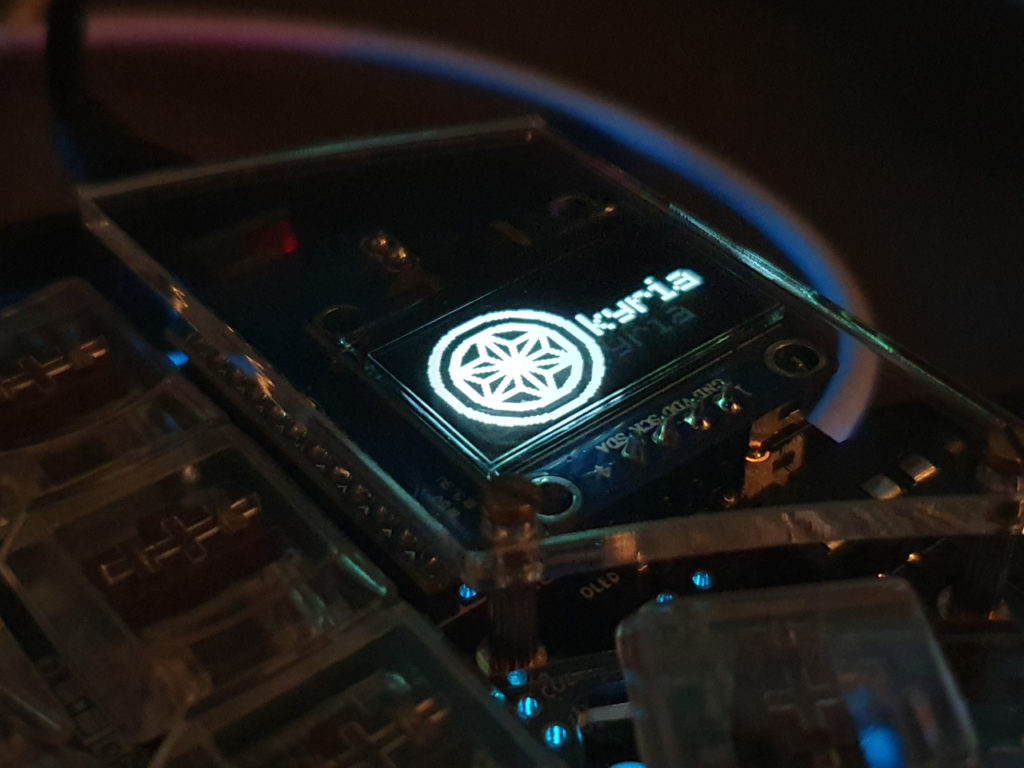 I added several niceties I didn't find elsewhere, mostly focusing on ease of assembly. A larger but more accessible Pro Micro footprint, slightly larger pads on the RGB LED footprints, clear silk labeling for all components with the resistor values listed, all pins broken out for easy modding.
A new webshop: splitkb.com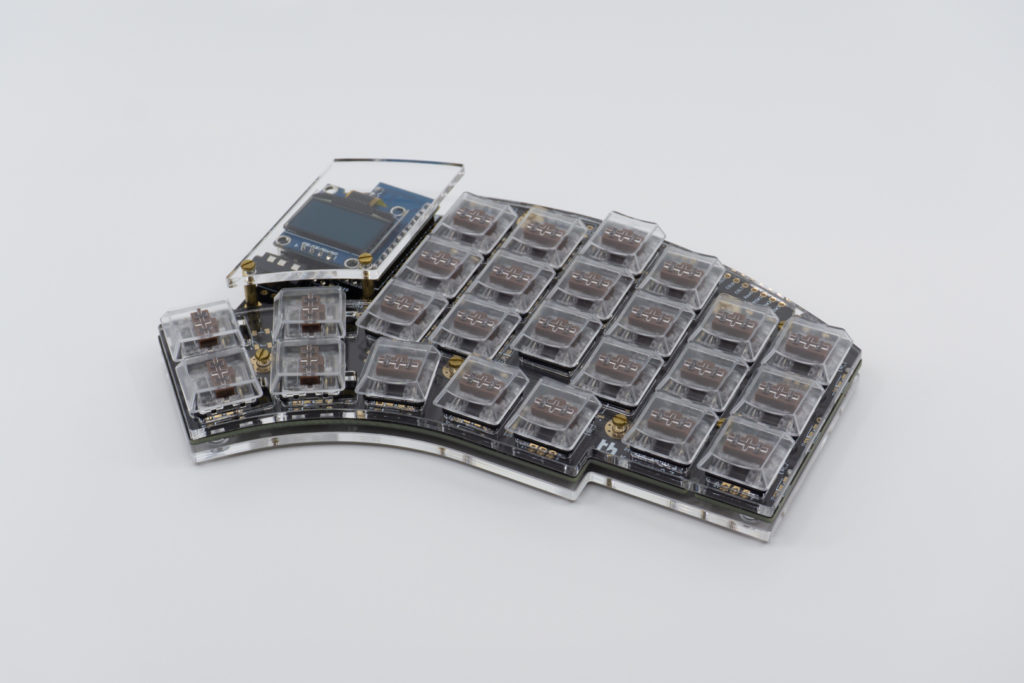 The people I often talk to on Discord were cheering me on while I designed the Kyria. They were kind and helped me with questions, and some even bought prototypes, sometimes multiple. I was happy with the Kyria, and so were the early adopters who bought prototypes and provided feedback along the way.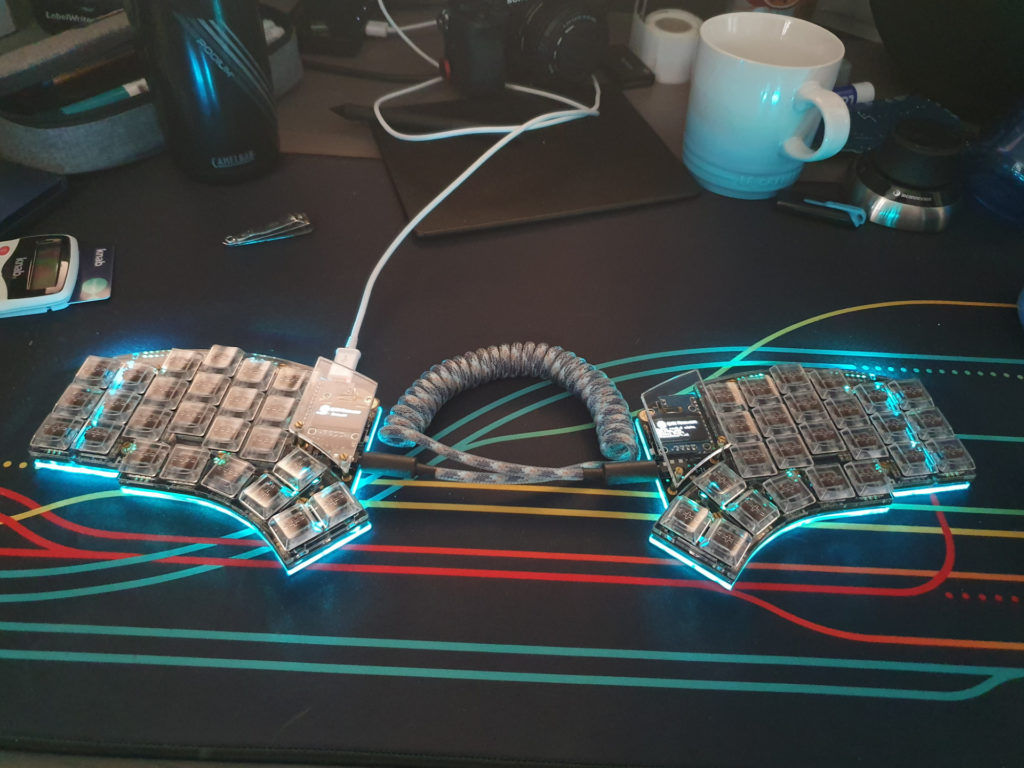 I decided: I want to sell the Kyria and see what it's like to become a vendor. My fascination for split keyboards and my desire to do a job well done combined into a dream about someday having my own thriving store, selling accessible yet cool split keyboards that you couldn't get elsewhere.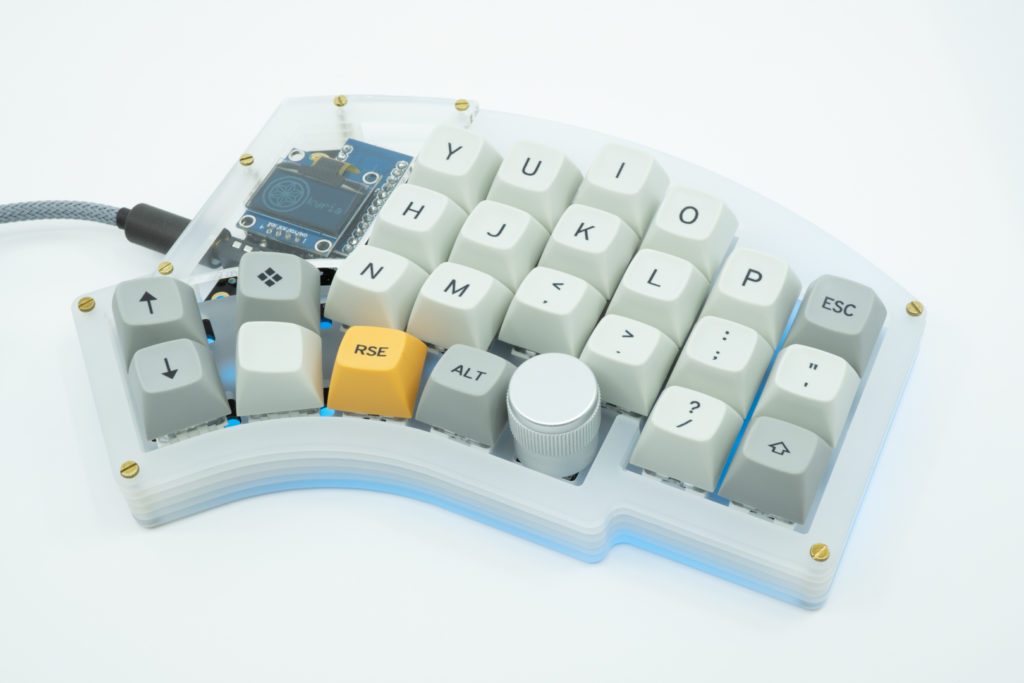 And so I made a webshop: splitkb.com. In the past months, it's grown from a single product page into a small shop where you can buy the Kyria with one of several acrylic cases. And I won't stop there: I'm working on getting more split keyboard designs in my store, both using cases I've designed in the past as well as new unique designs.
The future of split keyboards at splitkb.com
I think I can help make split keyboards more accessible to the community by providing my own designs and support. One of the steps I've taken so far is really quite simple: a printable layout tester. It's a piece of paper the size of a US Letter of sheet of A4 which you can print, cut across and try it without having to buy a keyboard yet.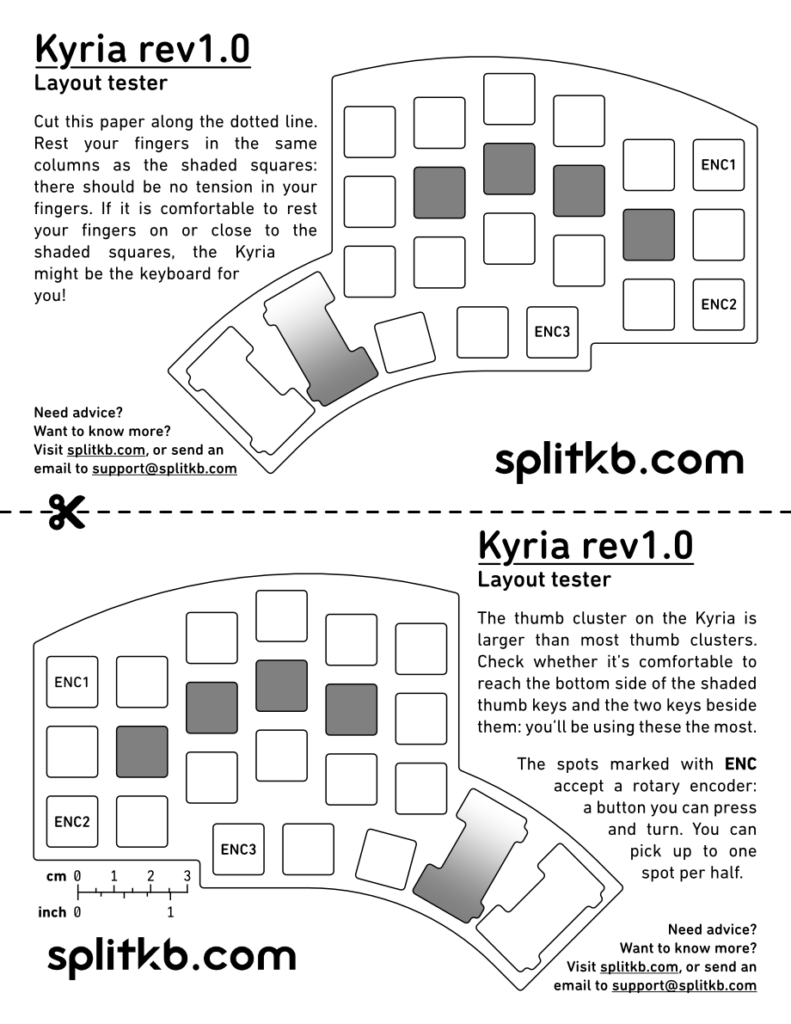 Other than that, I offer build services for the Kyria so that you can still get one even if you can't or don't want to solder it yourself.
It's still a bit early for a proper lessons learned, but I'd like to end this post with a few small notes:
If you really are passionate for something, you should take the step, learn and make mistakes. Maybe don't quit your job because of it just yet, but you're capable of more than you'd think.
Things take time to design, develop, test, produce, arrange. Things you haven't even thought about, like accounting, shipping, where you'll store all the kits you want to stock. I think you can't realistically know ahead of time all of what you'll get on your path, just be prepared for some setbacks and delays.
Community is important. You need the support of people who not only like what you make, but who also like who you are. This isn't just the internet, but also friends and family. Try to share your ambitions with loved ones and with people who like the same things you like, ask for feedback and share your troubles. It's easier if you feel like you're not alone in this.
All in all, I'm very excited to see what'll be in store, both in my store and for me. I hope I'll be able to share more positive news! 🙂